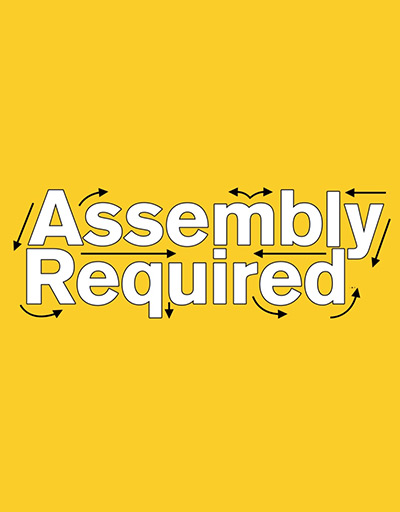 Assembly Required exists to support and amplify Herberger Institute for Design and the Arts' co-curricular and community programs which center creative professional development, celebrate racial diversity in creative career pathways, and recognize non-traditional ways of building knowledge.
What is Assembly Required?
Artists, designers and creative innovators are building our future world. Assembly Required brings together strategies for being a professional creative with approaches to new ways of working in art and design today. It is a platform of dynamic Herberger Institute programs showcasing skill sets for successful creative careers that connects the experiences of field leaders with future innovators.
Assembly Required takes multiple formats: interviews with creatives, discussion panels, interactive virtual activities, and learning modules that unite students, alumni and the greater creative community in discussions about past experiences, current skills and the future of creative work. It highlights programs across the Herberger Institute, showing the breadth and depth of learning opportunities happening in each school and seeks to expand community influence.
All programming is open to the ASU community and the general public to center community knowledge, promote voices of emerging leaders, and link disparate networks in the cross-sector work of art and design, to disrupt traditional pathways of access to learning.
Instructions Not Included
Instructions Not Included is an on-going series of short form auto-interviews by fascinating creative professionals from all walks of life. This curated collection of interviews highlights individuals who have made their own non-linear self-driven path.
Couch. Coffee. Culture.
ASU Art Museum's Couch. Coffee. Culture. series offers a behind the scenes studio visits between ASU Art Museum staff and their favorite creatives, showing an insider perspective of how artists and curators live and work.
Masterpieces at Midday
Masterpieces at Midday is an ongoing conversation series hosted by ASU Art Museum staff, ASU faculty, students and community members that delve into the museum's permanent collection. Each presentation will focus on a distinct artist and/or theme related to the artworks in the collection.
Cup of Career
Cup of Career, a podcast hosted by ASU Career and Professional Development Services, is a series of conversations with ASU alumni from a variety of industries who share their career stories.
Do you have ideas for creative professional development programming that needs to be supported and amplified?
We support continued professional development programs at various levels of expertise and entry points. Contact DP Leighton, assistant director of Career Services, to propose a panel topic, facilitate a discussion, or interview an industry expert. We are eager to promote the voices of students, alumni, educators, artists and community members.
Student leaders
Programming for Assembly Required is guided by the minds of our student leaders, ensuring that our content includes the voices and interests of our diverse population. Program Design Coordinators co-design and curate various initiatives with the assistance of professional staff.
Want to be involved? Contact DP Leighton for information.